"Tento systém je veľmi efektívny, ale skráti mi život," povedal na margo novátorského spôsobu tlmočenia Hermann Göring na lavici obžalovaných počas Medzinárodného vojenského tribunálu známeho ako Norimberský proces, na ktorom sa po prvýkrát rozsiahle tlmočilo simultánne s použitím technického vybavenia. I keď sa v 20. – 30. rokoch minulého storočia konalo niekoľko ojedinelých medzinárodných konferencií, na ktorých sa tlmočilo simultánne, až Norimberský proces z toho urobil medzinárodný štandard.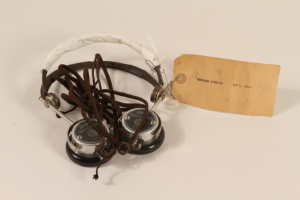 Foto: Slúchadlá, ktoré používal Hermann Göring
Vďaka prvým simultánnym tlmočníkom z/do anglického, francúzskeho, nemeckého a ruského jazyka mohli promptne komunikovať žalobcovia, obvinení, obhajcovia a svedkovia v procese, ktorý by inak trval oveľa dlhšie. Slúchadlá, cez ktoré počúvali dianie v súdnej sieni, boli neoceniteľné pre novinárov a prostredníctvom nich aj pre širokú verejnosť, ktorá sa tak dozvedela o tejto snahe vyrovnať sa s čelnými predstaviteľmi fašistického Nemecka.
Charta, ktorou Spojenci zriadili Medzinárodný vojenský tribunál, stanovila aj právo obžalovaných na spravodlivý proces. To zahŕňalo aj tlmočenie do jazyka, ktorému rozumejú – v tomto prípade do nemčiny. Konzekutívne tlmočenie by však všetko viacnásobne predĺžilo.Charta tiež stanovovala, že konanie musí byť rýchle, aby sa ušetrili náklady a čas a zachovala pozornosť verejnosti a médií.
Riešením by bolo, keby sa celý proces viedol len v jednom jazyku – teda v nemčine. Ak obžalovaní mali právo byť vypočutí a hovoriť vo vlastnom jazyku, to isté by sa malo vzťahovať na sudcov, právnikov a prokurátorov. Nedalo sa však od nich očakávať, že okrem právnickej nemčiny budú všetci ovládať aj technickú nemčinu. Úradní tlmočníci, ktorí tlmočia na súdnom konaní konzekutívne, čo sa napríklad robí aj dnes, neboli schodnou cestou, pretože sa rokovalo v štyroch jazykoch a tlmočilo sa viacerým skupinám.
Pred Norimberským procesom sa na medzinárodných podujatiach tlmočilo len konzekutívne a šušotážou. Na základe skúseností z práce Medzinárodnej obchodnej komory si šéf IBM Thomas Watson Sr. uvedomoval, aké možnosti skrýva prvé tlmočnícke zariadenie Filene-Findlay, ktoré firma IBM kúpila a rozhodla sa ho vylepšiť. Prvýkrát sa IBM Hushaphone Filene-Findlay systém, patentovaný v r. 1926, použil 4. júna 1927 na zasadnutí Medzinárodnej organizácie práce (ILO) v Ženeve a usporil jej 32 700 libier.
Jediné miesto, kde mali fixne inštalované zariadenie Filene-Finlay, bola Liga národov v Ženeve.Tam síce mali toto technické vybavenie na simultánne tlmočenie, ale nepoužívali ho v pravom slova zmysle. Išlo o "následné pretlmočenie vopred preložených textov" alebo "simultánne následné tlmočenie". Nebolo to teda skutočné simultánne tlmočenie tak, ako ho poznáme dnes.
Prejavy sa tlmočili konzekutívne. V praxi to znamenalo, že jeden tlmočník, zvyčajne francúzsky, konzekutívne pretlmočil prejav pre celú sálu poslucháčov. Ostatní tlmočníci v kabínach vtedy súbežne tlmočili za pomoci techniky do svojich jazykov z poznámok, ktoré si počas prejavu urobili.Takto systém fungoval v Lige národov. Keďže však jedno tlmočenie do sály bolo konzekutívne, celé rokovanie sa dvojnásobne predĺžilo.
Dnes už nie je úplne jasné v čej hlave skrsla myšlienka skutočného simultánneho tlmočenia – niektoré zdroje uvádzajú hlavného amerického prokurátora sudcu Jacksona, iné šéfa prekladateľov počas Norimberského procesu plk. Léona Dosterta, ktorý bol počas vojny tlmočníkom amerického generála Dwighta Eisenhowera.
Keď sa podarilo presvedčiť zodpovedných, aby sa použila technika simultánneho tlmočenia, plk. Dostert upravil systém a zaškolil niekoľkých tlmočníkov, aby ho mohli predviesť v Pentagone. Nebolo jednoduché následne presvedčiť aj Francúzsko, ZSSR a Britániu, aby podporili použitie simultánneho tlmočenia počas Norimberského prcesu. Ukázalo sa však, že všetky ostatné postupy by príliš predĺžili konanie.
Nuž a napokon bolo potrebné obstarať technické zariadenie. Kontaktovali spoločnosť IBM, ktorá na základe pôvodného Filene-Finlay systému vytvorila International Translator System. IBM bola pripravená a ochotná okamžite zapožičať a bezplatne dodať zariadenie s 200 slúchadlami, ak vláda zaplatí jeho prepravu do Norimbergu. Ďalšie slúchadlá dodala Liga národov v Ženeve. Proces sa mohol začať.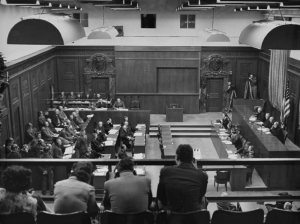 Pohľad do sály z galérie návštevníkov. Dole zľava doprava sedia obžalovaní, ich právni zástupcovia, súdni reportéri a sudcovia vojenského tribunálu.
Zdroje:
Gaiba, Francesca: The Origins of Simultaneous Interpretation: The Nurenberg Trial. University of Ottawa Press, 1998
The New York Times, 1945 – 1946
Webove stránky: Georgetown University, Occidental College, AIIC, IBM
United States Holocaust Memorial Museum Collection